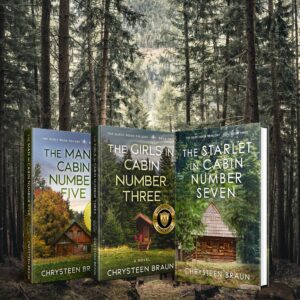 A special book signing is scheduled for next Saturday, November 11, at Timberline in the Glen.
Lake Arrowhead and the mountains are the setting for award-winning author Chrysteen Braun's Guest Book Trilogy, The Man in Cabin Number Five, The Girls in Cabin Number Three and the Starlet in Cabin Number Seven.
What do a murder/suicide, a madam and a starlet have in common?
"When Annie Parker turns 80, she decides to write a book about a time in her life when she was starting over. She moves up to the mountains and after restoring a set of 1920s era cabins, she discovers they each have stories to tell," she told us.
"I knew when I retired I wanted to write my books, and I cannot lie. Our two cabins, one is Skyforest and the other in Cedar Ridge, were the inspiration for my stories. Writers are supposed to write what they know about, but they also need to write books they'd want to read. I consider them Women's Fiction with a little romance, mystery and suspense."
Last year, when we met up with Braun, only the first book was out and books two and three were in the works. Now, it looks like the trilogy has turned into five books.
"I was curious about the cabins before Annie bought them from Sam, and book four is a Prequel. It's about the woman who owned the cabins before she did, and it's called "The Maidservant in Cabin Number One". Book five, is an epilogue, from the time when Annie made a new life for herself up in the mountains until she turned 80, and decided to write her story. It's called Dear Noah, and both are due out in early 2024."
"When asked what I write, I consider my books Women's Fiction with some romance, mystery and suspense."
Book Signing
In the mountains, Braun's books are sold exclusively at Timberline in the Glen (28956 Hook Creek Road) and she'll be there from 1 to 5 p.m. during the stores "Sip and Shop" open house.
"I'll have plenty of books, and if you've already purchased one or two, bring them in and I'll sign them for you. We'll also have a drawing and a gift with purchase."
A Slice of Orange
Author Chrysteen Braun talks about The Guest Book Trilogy!!
March 2, 2023 by Jann Ryan | Read original article here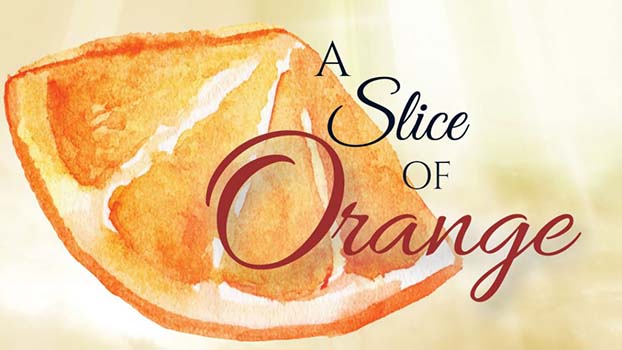 Today I have the pleasure to chat with the amazing Chrysteen Braun, author of The Guest Book Trilogy.
Jann: When did you know you wanted to be a writer?
Chrysteen: I think every author "always knew" they wanted to be a writer. I was around twelve when I wrote my first book. I have no idea what it was about, or where it ended up, but I do recall being so proud of myself. I actually knew how to type at that age since my parents worked from home and I learned to type and use a 10 key adding machine. Did I just date myself? I joined a writer's group in the 80s and then got sidetracked with business, so I wasn't able to write much more than newspaper articles about decorating. Our business was remodeling and interior design. It wasn't until I retired that I decided I only had so many summers left, and if I wanted to write my novel(s) I'd have to get on the ball.
Jann: Was your journey to publication easy? Tell us about it.
Chrysteen: I spent a lot of time trying to figure out what I was going to write; I knew I didn't want to write romance, but I also wasn't a mystery writer, so I had to figure out how to combine the two. Then I had to decide whether to publish traditionally or go indie. I listened to a lot of seminars and webinars about everything writing related, and honestly got so overwhelmed, I had a difficult time figuring it all out. Then, I wrote the first drafts of five novels while they were fresh on my mind. That threw me into another state of overwhelm, along with Covid-19, and I knew if I didn't make some decisions, I'd never get anywhere. I decided to jump into indie publishing, and began editing the first book, which is the first in the Guest Book Trilogy. Three years later, I've published two books, am working on the third, but have gotten sidetracked with a sequel novella, and a prequel novella, (which is turning into another book.!) I went with a company called Bublish, who does everything; book cover, ebook and paperback layout, book description, ISBN, NetGalley, editorial reviews, and initial Amazon and Facebook Ads. I've paid for these services, and they're all under roof, but I knew I'd never be able to finish my books if I tried to learn how to do it all.
Jann: Book One in The Guest Book Trilogy, The Man in Cabin Number Five, made its debut on May 10, 2022. Which came first—plot or character?
Chrysteen: The overall story. Then I had to figure out who my characters were, and since I'm a pantser, I didn't do an outline. I did, however, keep track of all my characters, and I made up a timeline since the story itself is set in the 1980s but works up to that. I really got myself confused a couple of times and have learned how important it is to keep track of it all.
Jann: Would you share with us what The Man in Cabin Number Five is about. Where did you get the idea for the book? Who are the main characters?
Chrysteen: I read about an unsolved murder in the 50s. and knew I wanted to add it to the story, and The Trilogy is about Annie Murphy who moves up to the mountains in Lake Arrowhead, Ca, to move on with her life after discovering her husband was unfaithful. There she reinvents herself and restores a series of cabins. She complicates her life when she meets a new love interest. She also meets Alyce Murphy, whose story runs parallel. Alyce discovers her father didn't die of natural causes as she was led to believe but was involved in a murder/suicide in one of the cabins Annie now owns. You don't know until the very end, what really happened, until Alyce's father John Murphy tells his story, The main characters are Annie, Alyce and Noah.
Jann: On November 28, 2022, The Girls in Cabin Number Three, Book Two in the Trilogy came out. Tell us about Annie Parker and Carrie Davis, the book's main characters.
Chrysteen: In book two, Annie makes a wrong turn in her relationship, but also meets Carrie Davis, whose mother Elizabeth, also stayed in one of the cabins during prohibition. There was a (real) speakeasy up in Lake Arrowhead in the 20s and 30s, and as with book one, the reader doesn't know the real story until the end, when Elizabeth tells us what happened.
Jann: Are you working on the third book in the trilogy? If so, can you give us a sneak peek?
Chrysteen: Book Three is about a Starlet named Celeste Williams who stayed in cabin number seven when filming a movie. Annie meets her son, and he describes growing up with an 'absent' parent, and again, it isn't until the very end Celeste tells her story.
Jann: What would you like the readers to come away with after reading your books?
Chrysteen: I don't write for causes; I write so my readers close the book and say, "That was a good read."
Jann: What preparation did you do for the launch of your books?
Chrysteen: I stressed about it, but Bublish launched both books. I wish I knew more about book launches, and hopefully with the next books, I'll have a better idea of what I can add.
Jann: What still excites you about writing?
Chrysteen: I thought for sure I was going to run out of ideas, but I'm finding I can hardly wait to finish one story so I can go on to another. That's what happened with the prequel novella; I kept coming up with more ideas so it's not turning into another book.
Jann: What's the best writing advice you ever received?
Chrysteen: Oddly enough it's from my husband; "When in doubt, just write it."
Jann: Do you have a website, blog, twitter where fans might read more about you and your books?
Chrysteen: Website, www.chrysteenbraun.com and I'm always available to chat at chrysteenbraun@gmail.com
Jann: Do you ever run out of ideas? If so, how did you get past that?
Chrysteen: I wish I had a writing ritual. I absolutely have to get all my 'busy work' done (like answering emails, doing marketing, listening to seminars, bookkeeping) before I can focus on writing, but sometimes this takes me into the afternoon and I'm burned out. I'm constantly making notes on little pieces of paper, and then when I've finished a draft, I go through them and see where I can add or embellish. And when I think I've run out of ideas, I go to my husband and ask something like "Where would they go next?" "What could they do?"
Jann: What profession other than your own would you love to attempt?
Chrysteen: Would I sound pretentious if I said I've done everything I've loved, not always successfully? Interior Designer, retail store owner, contractor, writer….I haven't had a ranch or been a court judge. Hmm
Jann: What's your all-time favorite book?
Chrysteen: I have several. Everything written by Jonathan Kellerman, Sue Grafton, Robert B. Parker to name a few.
Jann: What's on your To-Be-Read pile?
Chrysteen: Any Jodi Picoult books, The Bookwoman of Troublesome Creek,
Jann: What's your favorite song?
Chrysteen: The Wind Beneath my Wings, Bette Midler, and Conte Partiro, by Andre Bocelli
Jann: What is the craziest thing you've ever done?
Chrysteen: Waterskiing in Capetown harbor.
Jann: What is your favorite word?
Chrysteen: "Dork" when I've done something dumb, but "love you" would have to be my favorite
Jann: What is your least favorite word?
Chrysteen:  The "F" word and shut up.
Jann: What turns you off?
Chrysteen: People who go overboard with a cause or are totally opinionated.
Jann: What's the funniest (or sweetest or best or nicest) thing a fan ever said to you?
Chrysteen: "You don't look as heavy as your photo." No, just kidding!!! "I've read your book and I'm buying six more to give to friends for Christmas!"
Chrysteen, is was great doing a Q&A with you. Thanks for giving us a peek into your writing world. Good luck with Book Three!!
Maddie Margarita Hump Day Book Tour Interview
MOUNTAIN NEWS
Meet the author of The Man in Cabin Number Five
Original Article | Nov 2, 2022
Book signing to be this Saturday, November 5 What do a murder/suicide, a madam and a starlet have in common? You'll have to read Chrysteen Braun's The Guest Book Trilogy to find out. Set in Lake Arrowhead, Braun's first book, The Man in Cabin Number Five, came out earlier this year. The second book, The Girls in Cabin Number Seven, is due to be launched this month.
Braun and her husband, Larry, had two cabins on the San Bernardino Mountains: one in Skyforest, where they also owned At The Cabin (and The Hungry Bear Deli property) on Hwy. 18 and Kuffel Canyon Road; and the other in Cedar Ridge Estates. Both are used as settings in the books.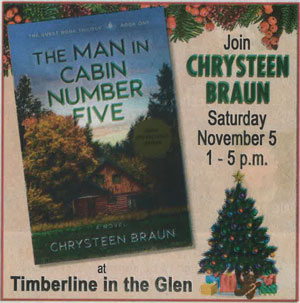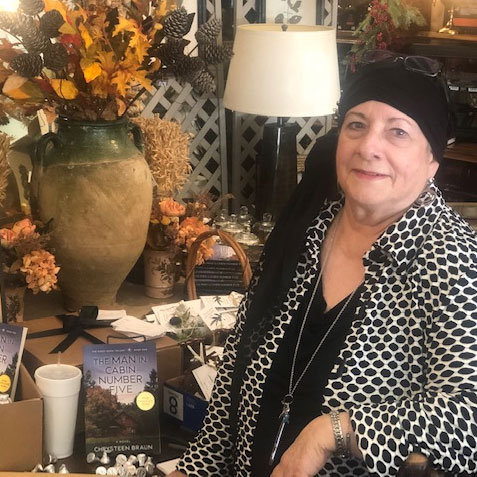 Subscribe to get Chrysteen's News: