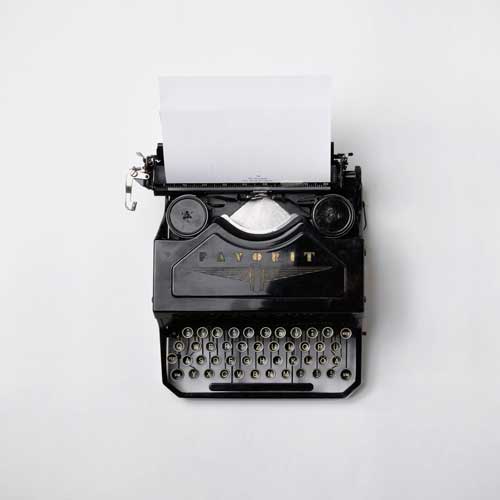 A friend once told me I'd live to the ripe old age of eight-six. When you're in your mid-twenties that seems like plenty of time to do everything you want to do in your life. Even as I grew older, I kept that number in my mind, and actually believed it and so I admit I did whatever I wanted to, and didn't always think about the future; it was too difficult to imagine ever growing that old.
I worked hard all my life and I have things to show for it. I had plenty of ideas, and not all of them worked out. But when asked, I'd say, "I've done everything I wanted to." I even thought about having that put on my gravestone.
I've survived the loss of two husbands, and I'm still working on my third. When you remarry after sixty, you look at relationships differently than when in your youth. You tend to overlook a lot of the things that were so important when you were younger. Body parts have shifted for us both. I have saggy breasts, and he has little breasts too. We both have gray hair, everywhere. His legs have gotten slimmer over the years; mine have orange peeled more. We both have sagging upper arms; his from losing muscle mass, me from being overweight. We both have crepey skin, but mine bothers me more than his does him.
He's a terrific guy and while he's a little younger than I am, he has different issues than I do. His prostate gives him problems, and yet he has managed to live with the impact that's made on his life and ours. He's kept his Diabetes under control. Not so surprisingly, I have Diabetes, Neuropathy in my feet, and in fact have lost part of my smallest right toe. I have high cholesterol, high blood pressure, and have had two stents put in my chest.
But other than that, I'm in good shape.
If I take it easy, I can do just about anything I want to.
You know how when people hear your life stories, they say, "You should write a book." I suppose that means some of my stories have actually been interesting and lately, I've been thinking about writing that book. While I can't always remember what I had for dinner last night, I can remember things that happened to me over my lifetime, and I've also been known to embellish a little here and there.
I've just passed my eightieth birthday, thank God, and as much as I swore I hated the idea of a party, my family and friends had one for me anyway….and I ended up having the best time ever. People I hadn't seen for years surprised me by coming, and of course talking with them brought up a lot of old memories. Some weren't the best, but most were recalled with fondness.
Like when the Helms Bakery truck came through the neighborhood; the moment we saw it stop down the street, we'd rush to our mother to ask for enough money to buy a brownie. We'd wait, almost jumping in anticipation, until that long, wooden drawer rolled out revealing all the goodies we had to choose from. I always chose the brownie, for it was pre-cut into squares and covered in a thin chocolate glaze. Sometimes, if I had enough money in my pocket, I'd get two and hide the second one in a napkin for later. I've never had brownies like those since.
My old friend Sarah from school was there, and memories of her terrible home life flooded back to me. One of my stepchildren from my first marriage was there; sweet William. He was an old man now too, only ten years younger than me, although he looked much younger. He reminded me so much of David, I was shocked when I first saw him; he had that 'forever youthful' look about him. I hadn't seen him in ages, and we had a lot of catching up to do.
My husband's daughter managed to go through my old photos, much to my dismay, for some of them could have been considered damning. She made some poster boards up showing my life at various ages. She meant well, but I couldn't help but feel that I was a spectator at my own funeral, plus I absolutely hated seeing photos of myself in private much less on a public display.
"What do you think?" I asked my husband about a week after my party.
"About what?" He looked at me as though I'd been talking to him about something and he'd forgotten what I was saying.
"About me writing a book?" I asked, wrinkling my face in concentration. I was sitting in front my computer playing solitaire.
"Oh," he finally answered. "If that's what you want to do."
I looked over at him while he went back to his newspaper.
"Well, that doesn't sound too convincing," I said.
"Annie, I think you should do whatever it is you want to."
"Do you think my life is that interesting?" I asked, knowing what answer I was hoping for.
"Of course, I do. Just don't put in any sex scenes. They could be embarrassing." And he went back to his paper.
So, there you have it. I've decided to write a book.
'Now I'll have to figure out what I want to write about first, and then get started.' I said to myself.
I pulled down a few of my favorite books to see how they'd started. I hadn't ever really thought about it. How a book started, I mean. I was sure there was some sort of art about writing, but I didn't have time to learn if I wanted to get anything written before it was too late.
So, I started at the beginning……or at least to the memories that my mind took me.
I was never the prettiest or the most popular in school. Other students never gathered around me or joined me at lunch; I always felt that if I wanted to sit with someone, I had to seek them out.
We lived the farthest from school, so I was always the one who knocked on my friends' doors to walk with them to school, hence I was always the one who finished walking home alone. My older sister Loni was usually home playing records in her room or giggling with girlfriends behind closed doors. We'd gotten a record player for Christmas the year before, and somehow, she'd managed to set it up in her room, which was of course, off limits to me.
Sometimes, after I'd gone to bed, I could hear my parents laugh as they danced to the music on the living room record player. If I felt especially daring, I'd pretend to be awakened, and rubbing my eyes like I'd been sleeping, I'd stand in the doorway and watch them. My father would stop and motion for me to join them, and he'd pick me up in his arms and continue dancing with me and my mother.
"Why aren't I pretty like Loni," I once asked him as I lay my head on his shoulder.
"My beautiful Annie. Why would you ask such a question?"
I remember my mother looking at me with sadness in her face, and gently touching my cheek.
"You're very beautiful," my father said, giving me a kiss. "And as you grow older, you'll be even more so."
I got to dance with them a while longer before they both scooted me off to bed.
It's funny how things turn out – as my sister got older, she kept her beauty, but ended up fighting a demon—the demon of alcohol—my father called it.
I ended up blossoming in my early twenties after I married David. He encouraged me to become a businesswoman and for that I was eternally grateful.
I kept those notes, and then I decided I'd start writing about a period in my life when I was searching the most for my future. It turns out I had three different stories to tell; they were all about my life at that time, of course, but also about people I met who it turns out, had their own stories to tell.
The first book was going to be about me moving up to the mountains, to a place where I could hopefully contemplate my future, and about a woman who was looking for answers to her past. She wanted to know the truth about her father who turned out to be the man who stayed in cabin number five.
The second one would be around the same time period for me, including some not so wise decisions, and about a woman who inherits her grandmother's beloved lake house, never really knowing the secrets her grandmother kept. She was the working girl who stayed in cabin number three.
And the third one, if I lived long enough, would be about the man who would become my second husband, about a man whose mother was an actress. She turned out to be the starlet who stayed in cabin number seven.
The living all had one thing in common; the people they never fully knew had all stayed in my cabins. And they all had stories to tell.
Chapter One
Annie
1996
The first time we drove up the winding road to the mountains, I had awful visions of getting car sick from all the turns. Not that I'd had a history of having a sensitive stomach, but when my sister Loni said, "Let me know if you're going to toss your cookies," that thought stuck in my mind.
It was also the first time my father had driven such a road and my mother warned us to be quiet as he often took the curve with a firm grip on the steering wheel, jerking us from one side of the back seat to the other. The more Loni and I tried not to laugh, it only made it worse, and soon we were laughing so hard, I knew I'd have a Froggy throat for an hour afterwards.
"Stop!" my mother said sternly, turning to look at the two of us.
We cracked up again.
I ended up loving that drive up and down the mountain. Sometimes the clouds would be so thick against the mountain, you thought you could step out on to them; other times, the clouds would turn into fog, and it would be almost impossible to see the road ahead of you.
I loved those times when Loni and I still had fun together. She was just enough older than me that we were in two separate worlds. At thirteen, she wanted to go places with her friends; places I wasn't invited to. And although she wasn't allowed to, she wanted to start wearing make-up, which I was so not into.
That first summer we had our cabin on the lake, I was ten and my sister Loni had just turned thirteen.
"We're here," my mother finally said as we pulled into a circular driveway. My father slowly unclenched his hands, and shook them, willing the circulation and color to return to them. He sighed.
"Now that wasn't so bad, was it?" my mother said, patting him on the shoulder. "Grab something," she called as Loni and I scrambled out of our station wagon. "Open the back."
I paused long enough to realize how quiet it was here; how the wind whistled through the trees that circled our house. And then I turned and saw it.
"I see the lake!" I shouted, pointing to the deep blue water, almost smooth as glass with the exception of a smattering of choppiness here and there. I dropped whatever it was I'd decided to carry into the house, but was stopped before I could run to see it, by my father, who gently turned me around and pointed me back in the right direction.
"Not until we're unpacked," he said, grabbing some boxes. "Then we'll all go down together."
The Pinecone Lake House as we called it was large enough for at least two families to stay comfortably, but mostly we came up by ourselves unless we could talk our parents into letting us have a friend come too. In total, there were fifteen rooms and twenty-nine doors and windows. Unlike most homes, lake houses had two fronts; one that you saw when you drove up to it, and the real front, the more architecturally interesting one, which you could only see if you were on the lake itself. There was a small green grass area on the lake side, which ended at the water.
One room which we nick named the 'Bunkhouse' had two sets of bunk beds and it was perfect for sleepovers; however, the term 'sleepover' was an inaccurate name, for we actually never got much sleep when we were there with our friends.
There were three other bedrooms plus my parent's room, a big living room, dining room and a large kitchen where at least three people could work at the same time. My mother worked in the lunch program at an elementary school, so she was usually off during the summer and she'd bring Loni and me up for weeks at a time. My father was a physician, so it was rare that he could spend that much time away from his practice.
I could hardly wait to roam the land around the house and even though it was summer, and the weather was warm, mud and leaves clung to my shoes as I made my way further back. Wooden planks ran along the ground, towards the weathered and splintered garden shed which was painted the same colors as the house. Thick brush kept me from going any further, which was disappointing, so I turned to make my way back to the house. Low lying branches covered part of the view of the lake, but I could still see blue water glimmer in the sunlight.
That was the year we bought our boat too. It had to be inspected and licensed for the lake before we could put it in the water to make sure it was fresh water clean. At first my mother wasn't interested in learning how to operate it, but at our insistence, she relented and got herself a permit too. Back in history, ships were often named after gods, to protect them, and even though it was superstitious to change the name of a boat, ours was named "Rum Runner" and my father wanted to name it "Destiny" after what he thought coming to America and marrying my mother meant for him.
I remember the first time we all went out in it, and when my mother took the wheel, she was timid and nervous. By the second time around the lake, she'd worked up the nerve to increase the speed enough so that water sprayed on our faces, and my father had to tell her to slow down or we'd all get into trouble.
At the end of that afternoon, when my mother pulled into our dock, we all climbed out and tied up the boat.
"Well, that was fun," she said breathlessly.
That was the summer Loni started her period, my mother learned how to start the fire in the pit so we could roast marshmallows, and even more important, learned how to put the fire out properly, and when I twisted my ankle when I tripped on a tree branch as I ran back to our house for lunch. It was the first time we saw deer leisurely searching our property looking for something to eat and it was the first time we'd seen a bobcat. We'd tried to be quiet as it walked through the trees getting closer to the house, but when Loni went inside to grab our camera, he just casually turned to see who we were before heading off back into the forest. It was the first time we learned you couldn't leave your trash cans outside the night before pick-up the next day, for hungry bears would come during the night searching for something to eat. They'd not only damage your trash barrel but remnants of whatever was nonedible would be scattered all over the ground.
It was the first time of many that I collected pinecones to put in a bowl that sat on the entry table, hoping to bring indoors the fragrance of being outdoors. And when we went into town, I bought a guest book with my own money so we could have everyone who came up there sign their names. Of course, I signed my name first.
It was also the first time I fell in love.
His name was Joey, and he was the bus boy at the local diner where we had Sunday breakfasts. Sundays were the only times we could splurge and order whatever we wanted, as long as we ate it, so I usually had the Belgian waffle with syrup and whipped cream, and bacon.
The Sunday of my revelation, I'd put too much syrup on my last bite, and some had run down my chin. Joey was passing by and pointed it out by touching his chin and winking. I thought I'd die of embarrassment as I grabbed my napkin and quickly wiped my mouth. At the same time, Loni, who had witnessed it all, kicked me under the table.
"Ow," I said.
"What?" my mother asked, looking up from her magazine.
"Nothing," I answered, kicking Loni back.
Joey was probably eighteen, tall and lanky, but I thought he was the most handsome boy I'd ever seen. For the next week, all I could do was think about him, and if Loni caught me drawing a heart or something else romantic, she'd stick her tongue out at me.
It seemed like forever until we went up to the lake house again, and it turned out that when we did go up, we'd be there for the annual Memorial Day Festival. My stomach sank when I learned we weren't going to the diner for breakfast that Sunday, and instead we packed ourselves and two baskets of food into the boat headed over to the village.
I knew for sure I'd see Joey, and that when he saw me, he'd come over and say "hey" and introduce himself to my parents, and I searched in vain for him everywhere I went.
"Looking for Mr. Dreamboat?" Loni asked.
"Oh, shut up." I said, trying desperately to hide my disappointment.
"Oh look. There he is," Loni said pointing off to our right. She was gloating so much I thought she was going to pop.
And there he was, walking towards us.
And he was with a tall blond girl who laughed as she leaned into him.
My heart sank, and so did my shoulders. I couldn't look at him, so I quickly started collecting the empty plates and cups from our blanket.
"Why, that's thoughtful of you," my mother said.
"She's just hiding from someone," Loni said.
"Shut up."
"Annie, you know I hate when people say that." Then she looked up and saw Joey and the girl walking past us. "Why that's that nice young man from the diner, isn't it?"
I kept my head down, pretending to concentrate on cleaning up.
"I knew he wasn't interested in you," Loni said.
"Shut up," I said again. Sometimes I really hated her.
Since my mother, Loni and I had the week off for Thanksgiving, we decided to spend it up at the lake house. My father made arrangements to be off then too, so he would be able to join us. We waited to do our grocery shopping until we got up there since there were two markets, and I was still young enough that I enjoyed the holidays and I looked forward to going up and down the aisles picking out everything we didn't need. I stood a fifty-fifty chance of getting what I asked for, so I asked for everything from crazy cereals to cookies.
There hadn't been any snow yet, and I was dying to try to catch snowflakes as they fell around me, but it didn't snow that week either. It was cold though, and we constantly had a fire going plus we set the heater to try to keep us all warm. We wore mittens inside and had blankets we could wrap ourselves in while we watched TV.
News spread quickly in a small town like Pinecone Lake, and a few days before Thanksgiving a young girl went missing. My parents instantly went into high alert and we couldn't go anywhere or do anything without one of them there with us. It only made sense, but at the time, I was confident nothing would happen to either of us, and all we wanted to do was walk through the woods down to the lake.
I missed the warmer weather and wished we could go down to our dock and sit with our feet in the water. During the summer we'd watch people in canoes and kayaks, and every now and then water skiers passed by us at what then seemed like great speeds. But not many people were on the lake in November and very few boats were out.
The morning of the little girl's disappearance, we brought out several games, decided on Monopoly and set it up on the front deck where my mother could keep an eye on us. We made constant trips back into the kitchen to grab potato chips, sodas and then finally tuna sandwiches. We quickly tired of the game, and for the most part of the afternoon, we sat all covered up in our Adirondack chairs, first complaining, then reading then napping.
Late that afternoon, Mother told us the girl had been found; she'd just wandered into the forest behind the campground where her family was staying and eventually made her way back. She stretched her shoulders and rubbed the back of her neck like she did when she tried to relax, and I was hoping the good news would make her stop worrying about us so much.